Free Shipping & 100% Money Back Guarantee
"Great for gut health and immune system. I feel and look healthier! I even have improvement with my skin."
- Michelle Janette Briner
Become the absolute best version of yourself.
Unlock the power of deer antler velvet to reach your health & fitness related goals.
60 days a year - we're sick.
The average person catches a cold about 4 times a year. Plus other bugs and minor illnesses that make us feel run down.

Each sickness knocks our life out of order for about 15 days.

That's around 17% of our year (our lives!) spent being run-down. Yikes!
Did you know our gut heavily influences our immune system function & energy levels?
Yep. Our gut unleashes immunoglobulins to help squash the baddies in our body before they make us sick.
Imagine cutting your sick days in half.
Our unique Colostrum Powder gives you the support you need
Immune Support
Promotes balanced gut bacteria & strong immune system function
Digestion & Gut Health
Supports the gut's natural repair process & normal digestion
Skin Health
Contains growth and immune factors that help rejuvenate the skin
Energy & Sport Performance
Fuels the body with nutrients that help with muscle mass, recovery, and exercise endurance
Where did my "it factor" go?
Your mind feels like when you were in your 20s and 30s, but your body doesn't move and feel the same way.
Here's what's holding you back:
You're busier with other priorities

You're sore from working out and you can't get back in the gym

Your chemical balance is different from aging
We can't make you less busy, but we're here for you with the soreness & chemical balance.
And guess what - once you solve those 2 issues, your priorities shift and you find yourself making time for your passions.
How does Colostrum help? It supports Immunoglobulin (IgG) levels in your gut
Colostrum protects newborn cows as they grow
Our Bovine Colostrum powder fuels you with the same formula that baby cows get from their mother at the early days of life.

We ethically source this colostrum to repurpose those same health benefits for you
This isn't milk. This is on a whole other level. It's a special formula that transforms baby cows into the huge adults. Get the same "happy cow" feeling with a powder-based daily drink.
The health benefits are amazing
Immune system support

Digestion & bathroom regularity

Healthy aging & skin

Promotes physical fitness performance
Here's what you DON'T want in your Colostrum powder
Unfortunately, it's what you'll find in colostrum products...
Junk filler ingredients
It's common for other supplement brands to load up on fillers to make it seem like you're getting a lot of product, when in actuality there are few active ingredients.
Imported product from other countries
Our bovine colostrum is made in the USA, from happy, Grade-A dairy cows. All Pure Velvet products are made in an FDA registered, GMP Certified facility to ensure the safest, highest quality product.
Inhumane harvesting
At Pure Velvet, our ethical sourcing process ensures the baby cows get their much needed resources first, then our colostrum is sourced immediately after - still during the first milking.
Pure Velvet offers Real Results
There's a reason we have more so many happy customers. Pure Velvet has the highest standards when selecting a holistic health supplement to add to its roster. Few make the cut. Our unique Colostrum formula made the cut for providing the best immune support and promoting regular digestive function.
What Customers Are Saying...
Customer Reviews
Write a Review
Ask a Question
02/02/2023
Jason R.

United States
Price jump!!
July of last year this cost 40 something now it's 70. That's not cool. Seems a little greedy to me
01/22/2023
Tammy D.

United States
Want it to work
Taste is great! I purchased it for gut health, it's been two solid weeks. I workout 6 days a week-so I'm taking two scoops on an empty stomach a day. Haven't seen any huge difference, but I'll continue to finish this can-then decide
01/19/2023
Elvera L.

United States
Giving it a try
It's only been a few weeks but I think it's working. Need more time in the colostrum. I must sat it taste good
12/27/2022
Debbie

United States
Improvement overall
Since my husband and I started using the Pure Velvet Colostrum Powder, we both feel better overall. I've noticed a bigger impact from workouts, improved gut health, and a general sense of better health. I used to drizzle some strawberry syrup in to help with the taste, but I've gotten used to it now.
07/27/2022
Pablo L.

United States
Good taste and results
Very nice! It mixes very well!
05/23/2022
Michelle H.

United States
Amazing product for gut health.
03/28/2022
Nathan K.

United States
I've experienced great results.
03/10/2022
Francesca F.

United States
colostrum powder
I love this superfood. this product is the truth . I feel great. I have been taking this for 3 weeks now I feel strong .it does help with recovery from excerise. I feel it does support my immune system. I been suffering with sinus and eye problems its clearing it up .I can breathe. my eyes don't hurt and the black circle around my eyes are going away. I have stop using all other products just to see if this works.thank you pure velvet. the taste is good to me it smells like a hint of vanilla. i will recommend this .right after I drink it on a empty stomach I can feel it working my body awaken alertness. hope everyone else loves it also. I am 44 years of age .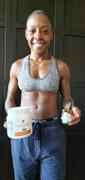 03/05/2022
George H.

United States
Love it
This product is wonderful! I started taking one scoop once in the morning on an empty stomach. Also one scoop before bed on a semi empty stomach (I don't go to sleep till two hours aftermy meal) I can feel more energy, I don't just think its the new mitochondria I'm building up, I think it's the cause of this powder, I am eating the same amount and kind of food everyday and I feel as though I'm using all of the nutrients and carbohydrates my food has to offer.
02/25/2022
Richard H.

United States
Colostrum
I find it a helpful product for my Recovery from work outs , along With a quality taste . Results Is hard to judge as I follow a good health protocol. I will know what the Combination with D.A .V Only half way through both products. Quality is a concern & I'm not complaining. Most Dav on market is Dav in name only